Find spaces in and around the Business School to meet your friends or classmates, relax and have a bite to eat, or for quiet reading and study.
Level 1 foyer
This wide open space is filled with tables and chairs where you can sit and relax, socialise or work. 
Superfino, the cafe in the corner of the space, offers a range of hot and cold drinks, meals and snacks.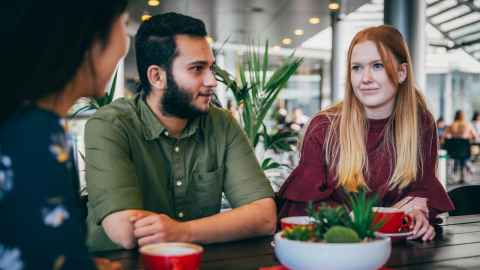 OGGB - Level 0 study spaces
Level 0 of the Owen G Glenn Building provides an extensive open space where you can study, circulate and meet other students informally. A limited number of computers are available, and bench-top space, power points for laptops and wireless capabilities are provided. Photocopying and printing are available via your NetAccount.
The Business History Wall and the Business Hall of Fame are located on Level 0, too, with a colourful and informative historical display.
Postgraduate study spaces, lounge and social bridges
Level 2 of the Sir Owen G Glenn Building offers dedicated study spaces for postgraduate students with computers, printers and wireless capabilities.
The light and airy Postgraduate Lounge with bench-top, table and lounge meeting spaces, kitchenette facilities and plasma screens is also available for relaxing between lectures and studying.
The social bridges on Levels 3-6 are similarly equipped, and are for the use of postgraduate students only. Doctoral student spaces have panoramic views of the harbour and the Auckland Domain.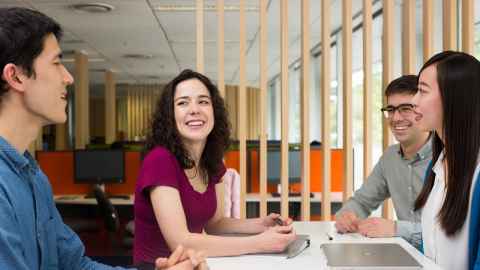 Dedicated spaces for Māori and Pacific students
Te Marumaru is the dedicated study space on Level 0 for Māori and Pacific Business students and the Tuakana administrative office is located next door.

Centre for Innovation & Entrepreneurship's Unleash Space
Located in the Engineering Building, this Business School Centre has a space for students to innovate or simply to study. Equipped with a Maker Space, where students can access a number of machines and technology, as well as open spaces with chairs, bean bags and power points, this space is a great spot for students.