Te Ahi Hangarau Technology Hub
A 5G-enabled lab for students to explore, discover and create using the power of technology.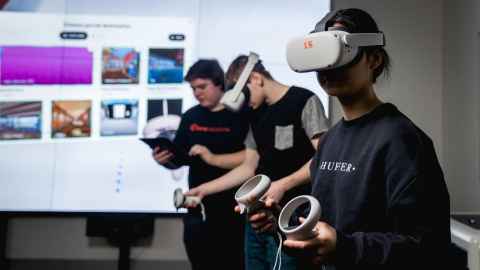 Te Ahi Hangarau Technology Hub is our new and innovative learning space open to all students and staff, equipped with 3D printers, virtual reality headsets, smart home IoT devices and more. The space is located on Level One of the Sir Owen G Glenn Building.
The University of Auckland launched the hub in 2022 in partnership with One NZ, making us the first business school in Aotearoa New Zealand to offer students access to 5G technology.
The Māori name gifted to the hub, Te Ahi Hangarau, symbolises our goal to empower students through technology to make a positive impact on our world.
"Ahi", meaning fire, and "Hangarau", meaning technology – together, this represents how students can ignite their innovative potential by exploring, ideating and creating using the technologies available in the hub.
With Te Ahi Hangarau and our other facilities across the University, students are encouraged to develop the tech-savvy skills and knowledge they need to be future-ready graduates.