The Liggins Institute has the capability and facilities to support a wide range of biomedical and clinical research. Find out more about our equipment, and how you can gain access to it.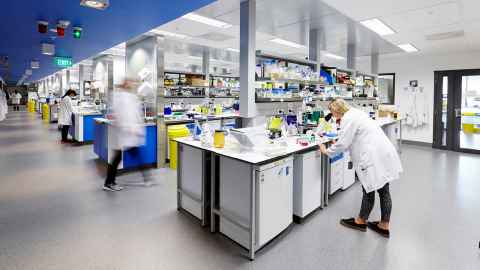 Laboratory science
In our well-equipped research laboratory, we analyse the samples generated by clinical trials and research projects. We also offer industry-proven mechanised assays (using Roche analysers) and cutting-edge specialised analyses utilising mass spectrometry or genomics platforms. Our laboratory includes the following equipment:
COBAS/Roche Analysers
Magpix Multiplex Reader
Q-Exactive High resolution quadrupole/orbitrap mass spectrometer
Liquid Chromatography Triple Quadrupole Mass Spectrometers (LCMSMS)
Ultra High Pressure Liquid Chromatography (UPLC) system
Genomics and DNA Sequencing
Because we only analyse research-generated samples, we can measure ALL samples from a project in an uninterrupted batch, making processing variations less likely. The breadth of analyses available means that we can usually perform all required assays on site.
Our skilled and experienced technicians can undertake complex assays such as magnetic bead multiplex plate assays, and develop assays for new compounds or to screen for potential biomarkers between samples from different populations.
If you need assistance with lab-based research, please contact us for a quote by emailing Laboratory Manager Eric Thorstensen.
Research lab equipment
COBAS/Roche Analysers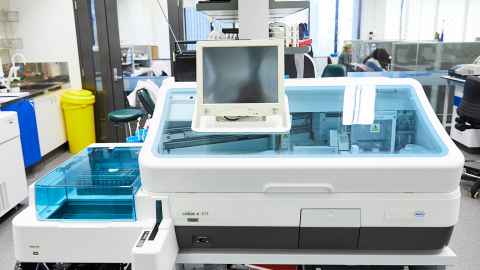 The Institute owns a c311 Clinical Chemistry Analyser and an e411 Immunology Analyser. These analysers run the same tests as hospital and diagnostic medical labs, the list of which is extremely extensive (available on request). Some of these tests are run routinely so we have kits in stock (see list below); others can be purchased for specific projects as required.
C311 Clinical Chemistry Analyser
Electrolytes: Sodium, Potassium, Chloride
Total Protein
Urea
Glucose
HDL Cholesterol
Triglycerides
ALP
ALT
AST
GGT
Lipase
Calcium
Albumin
HsCRP
HbA1c
APO-A
APO-B
Magnesium
LDH
Cholesterol
Bilirubin
Lipoprotein
Creatinine kinase
Fructosamine
Creatinine
Paracetamol
Haptoglobin
Uric Acid
E411 Immunology Analyser
Insulin
Cortisol
Homocysteine
ACTH
T3
T4
Progesterone
Ferritin
Crosslaps
P1NP
Estradiol
SHBG
Magpix Multiplex Reader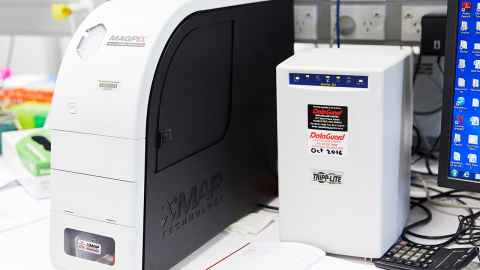 The Magpix Multiplex reader is for measuring specific proteins via a magnetic antibody technique. The key benefit of this technique is the ability to measure large numbers of related compounds from a small volume of sample in one microplate eg. 10-20 cytokines, adipokines, all IGF-1 binding proteins etc. There is a wide range of kits available across a variety of species and from several suppliers, and we can advise on which to use. We have an experienced technician who specialises in these multiplex assays, removing the cost associated with 'novice' attempts. We are also able to do ELISA microplate assays.
Q-Exactive high resolution quadrupole/orbitrap mass spectrometer
In addition to targeted analysis via the triple quads, we also have a Q-Exactive for (mainly) untargeted metabolic profiling. This machine allows researchers to see the entire 'forest' of compounds in a sample and compare variations across treatments or subject groups. This technology is used extensively across the world by researchers looking for biomarkers in biological samples (plasma, CSF, stool, hair etc.). A typical run will reveal over 400 different compounds across a variety of classes, many of which can be positively identified.
Liquid Chromatography Triple Quadrupole Mass Spectrometers (LCMSMS)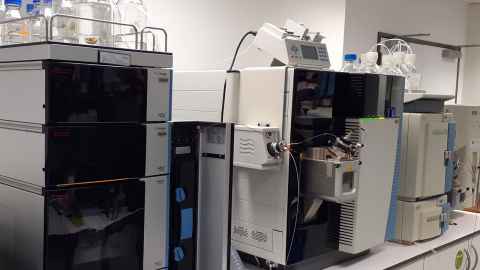 Our triple quad LCMSMS capability revolves around established techniques (e.g. steroid measurement) and the development of new methods on request. We have two machines (TSQ Quantum Ultra and a new Thermo Quantiva) designed for targeted analysis of known compounds in complex mixtures (e.g. plasma). These machines have a 1500m/z upper limit and are specifically designed for the measurement of both naturally occurring and synthetically produced small molecules. Parts of our sample preparation procedures are automated, allowing for a higher throughput and analysis of larger sample sets.
Ultra High Pressure Liquid Chromatography (UPLC) system
We have a long established UPLC method for the measurement of physiological amino acids from a variety of fluids. This is based on the Waters Accutag method and results utilising it have been published in a large number of journal articles. We are transferring this method onto our LCMSMS which will increase the number of quantifiable compounds from 24 to 40.
In addition to established techniques, we have the capability to develop new methods either from scratch or from publications. We have two technical staff members who run both the LCMSMS and UPLC equipment, with extensive experience developing new methods on both platforms.
Genomics and DNA Sequencing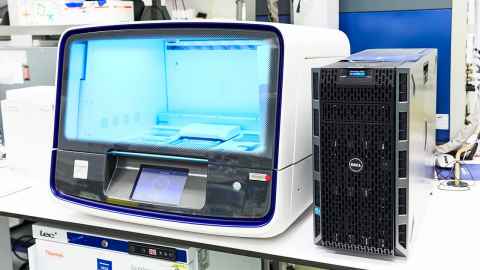 The Liggins Institute hosts the Grafton Genomics facility, within which is a Sequenom and Ion Torrent NGS sequencer for sequencing for DNA, RNA and miRNA. This equipment can do genotyping (SNP analysis), exome sequencing and transcriptome sequencing (RNA), and can also detect changes in methylation patterns. The facility provides a complete genomics service from sample extraction to primer design and then through to data presentation.
Additional capabilities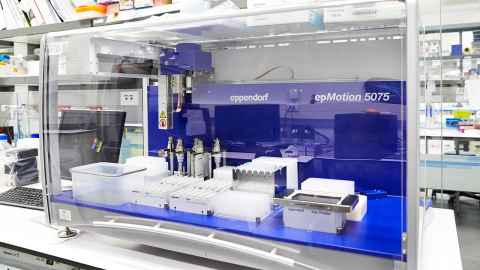 The Institute is equipped with PCR, real time PCR (Quant Studio 6 and LightCycler), gel imaging (ChemiDoc), and various protein, DNA and RNA quantitation devices (Direct Detect, Agilent Bioanalyser, N60 Nanophotometer and Qubit). In conjunction with these devices are two Epimotion pipetting robots with a variety of attachments to facilitate the addition of small quantities of reagents to 96 and 386 well PCR plates.
Histology and Microscopy
The Institute has extensive histology facilities with a range of Canon, Leica and Zeiss compound microscopes, some of which have fluorescence and imaging capabilities. The laboratory also has microtomes for tissue sectioning and a Leica cryostat for preparing both fresh and fixed frozen sections.
Cell and Tissue Culture Facility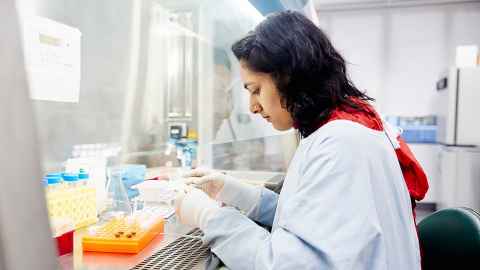 There are three well-equipped cell and tissue culture rooms in the laboratory, each with a selection of biological safety cabinets and CO2 incubators. Methodologies employed within this facility include: gene transfection, siRNA mediated knockdown and cancer cell biology. One room has a hypoxic chamber and tri-gas incubator for studying the effects of low oxygen levels on growing cells.
Using our laboratory
The Liggins Institute's lab equipment and expert staff is available for scientists and researchers both within the University and externally to use. For information on any of the facilities listed above, to enquire about equipment use or to request a quote for sample analysis, please contact Laboratory Manager Eric Thorstensen.