Our researchers are investigating how early life events affect long-term health, growth and development, as well as the impact of nutrition and exercise on health in adults. This has resulted in the identification of four main research themes: Healthy Mothers, Healthy Babies; Nutrition for Life-long Health; Determinants of a Healthy Life, and Research to Reality.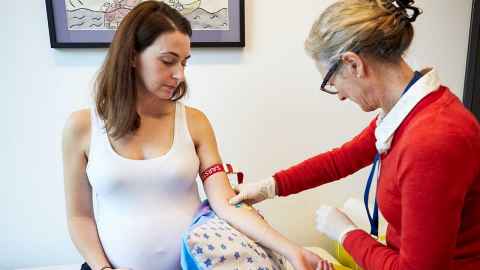 Overview
Many Liggins researchers are practising clinicians. This enables them to follow groups of children and young people as they grow up, to assess potential health risks that could be associated with their pre-birth environment or treatments they received around the time of birth.

Other research focuses on the role of nutrition in healthy aging, the causes of food intolerances, and the impact of exercise on muscle strength and mass.  
Randomised controlled trials and observational studies are carried out in the Liggins' purpose-built Clinical Research Unit or at Auckland City Hospital, a teaching hospital across the road from the Liggins Institute. All clinical studies are approved by the Northern Regional or multi-site ethics committees.
Clinical Research Unit
The clinic was built, equipped and operates thanks to a large gift from the late Maurice Paykel and Mrs Agnes Paykel. It was officially opened in 2005 by Dame Silvia Cartwright, the (then) Governor General of New Zealand.
Our bright and child friendly Clinical Research Unit is fully-equipped for a wide range of clinical studies, including detailed metabolic, obesity and nutritional assessments, and neurocognitive testing in children and adults. The unit provides for a range of public good and pharma funded studies, with onsite parking available for participants. The clinic is a welcoming environment with the following facilities:

six beds (in three rooms) for assessment and treatment
a room with six armchairs for short duration studies
small, quiet rooms for questionnaires and psychological studies
a kitchen and eating area
a sunny waiting area with lots of toys and books
Clinic facilities include:
DEXA (Dual Energy X-ray Absorptiometry) scanner that allows measurement of body composition in children and adults to determine the relative amounts of fat and lean tissue. It is also the most accurate way to measure bone mineral density.
Peripheral QCT (Quantitative Computed Tomography) scanner which precisely measures cortical bone density, the most accurate index of actual bone density and strength. This tool can be used in infants, children and adults.
PEA POD (Infant Body Composition) machine which uses whole body densitometry to determine body composition (fat and fat-free mass) in infants weighing between 1 and 8 kg. 
Equipment to perform sophisticated cardiovascular, exercise and endocrine assessments.

Portable ultrasound which can be used for a range of functions including carotid intimal thickness assessment and flow mediated vasodilation (an accurate measure of peripheral vascular function).
Leonardo Jump Plate. This measures jump power as well as balance and is a useful tool in children and adults with impaired gait or motor function.
Developmental testing suite with video recording.
Phlebotomy and sample collection rooms.
Laboratory and sample processing areas.
Clinical research team
The clinic is staffed by a friendly team of paediatric endocrinologists, paediatricians, paediatric and research nurses and administrative staff. Paediatric fellows, PhD and masters students also work in the unit. All staff involved in the set up, conduct and closure of clinical trials maintain current training in ICH-GCP and understand the requirements of The Guideline on the Regulation of Therapeutic Products in New Zealand Part 11: regulatory approval and good clinical practice requirements.
Using the facilities