Community Engagement Manager at Vector
Teina Teariki Mana has always wanted to study. Her extensive experience allowed her to get a Business degree, improving her community engagement skills.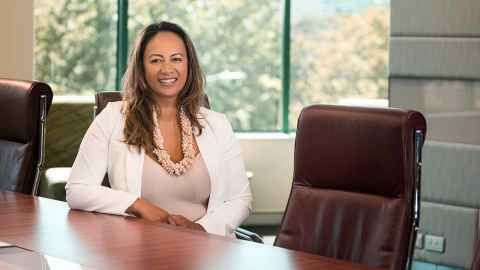 Key facts
Career: Community Engagement Manager
Programme: Postgraduate Diploma in Business
Prior degree: None

What if the next opportunity comes along and I'm overlooked? Having a business degree has solidified what I've learned and will help my future career.
A community-minded leader, Teina Teariki Mana has been working at Vector for a number of years. She is currently Community Engagement Manager as well as Chair of the Diversity and Inclusion Committee at Vector.
"I've been quite lucky, my career has been progressing and I've had lots of support from executives. I've had three different leadership roles at Vector and I've been able to achieve things without a document to validate that.
"But I thought, 'What if the next opportunity for development and promotion comes along and I'm overlooked because I don't have a qualification?'
Thus began her journey to take up a business degree.
"I've always wanted to study. Studying was really important to me. I wanted to be able to achieve something that was personal and so being able to have the opportunity to study and go to the University of Auckland of all places was really special for me.
"I took a lot from the strategy paper because the type of work I do is customer-facing and community-facing. It really taught me different ways of engaging in my work.
"Now, I appreciate education even more and that it does open doors. Having a business degree has solidified what I've learned and will help my future career."