Become a leader and decision maker of the future with a flexible MBA from New Zealand's top Business School.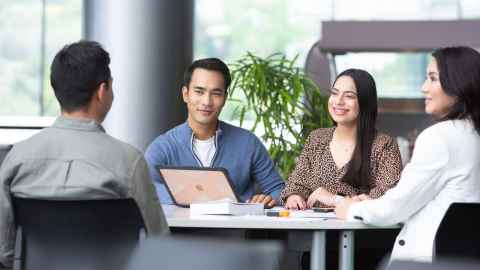 Our MBA provides more than a set of skills. It will enable you to:
Transition to a new level of personal and professional development
Gain the confidence and capabilities to thrive under uncertainty
Drive change and navigate through complex business environments, now and in the future
Develop skills relevant to New Zealand's distinct political, cultural and legal environment, enabling local businesses to succeed

Learn to use international business strategies to scale up small and medium-sized enterprises
Change your life, and the business world, in one step with an MBA from the University of Auckland Business School.
Your MBA experience
The online MBA provides an engaging and interactive learning experience with unique advantages, such as:
Access to top-notch education from anywhere in New Zealand or beyond

Flexible schedules that can be tailored to your work and personal commitments

Collaborating and learning with a cohort of industry leaders and innovators

Establishing lifelong professional networks

Earning a globally recognised qualification

Incorporating learning from various disciplines

Contributing to sustainability by saving time and resources
Entrepreneurial practice
The University of Auckland MBA programme offers students a unique experience, working with New Zealand companies in an advisory capacity to develop strategic recommendations for local or international growth. During the international client project, students spend a week in an international market meeting distributors, interviewing clients and undertaking observational research. This provides students with a genuine insight into, and experience of, global business. 

Our MBA cohort at a glance
Our diverse cohort of talented senior-level professionals encompass a wide range of skills, experience and backgrounds.
Industry backgrounds - Over 13 different areas, including government, financial services, consumer products and manufacturing
Average age - 37.5
Average years work experience - 13
Years in management role - 5.5