Teaching and Learning at FMHS
The faculty aims to develop the next generation of healthcare professionals, researchers and leaders through the production of graduates able to address the health and medical science needs of our communities.
In addition to offering a range of undergraduate and postgraduate programmes, the faculty also plays an important role in the continuing education of health professionals, through programmes that deliver high quality short courses and skills-based training that meets the needs of New Zealand's health workforce.
Teaching and learning in the faculty is overseen by the Associate Dean (Learning and Teaching), Dr John P Egan. Dr Egan also chairs the faculty's Education Committee which functions to maintain and improve the quality of teaching and learning within the faculty.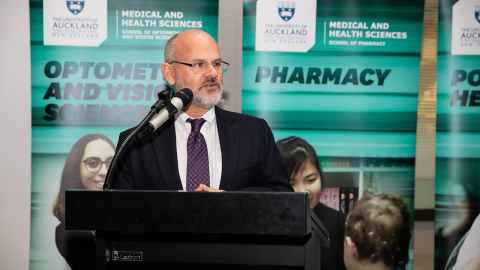 The Education Committee includes representatives from the six schools, the various boards of study in the faculty, and representatives from various departments and units including the Centre for Medical and Health Sciences Education and the Learning and Teaching Unit. The Education Committee therefore provides a forum in which the commitment to teaching and learning quality is informed by diverse and informed perspectives from across the faculty.
To achieve our goals, we strive to attract students of the highest standard and provide them with a teaching and learning environment in which they will be able to excel in their chosen field of study.
We focus on excellence in our curriculum, promote continual pedagogical improvements through course development work carried out within the six schools and through the activities of the Centre for Medical and Health Sciences Education, the Learning and Teaching Unit and the Clinical Skills Centre.
To ensure that we are meeting our goals, quality assurance processes are built into all aspects of our operations.
Our strengths include:
Enabling the widest possible student access to the faculty of those who have the potential to succeed
Encouraging interprofessional learning across our undergraduate programmes
Embracing research-led teaching
Providing professional development opportunities for staff and pedagogical innovation
A focus on teaching excellence through annual teaching and learning awards