Careers in Biomedical Science
What can you do with a biomedical science qualification?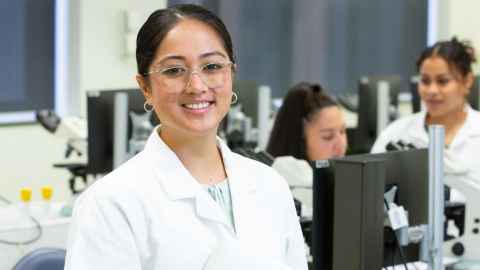 Does being involved in research and making potentially life-changing discoveries excite you?  Then a career in the field of biomedical sciences could be for you!
A career in biomedical sciences offers exciting opportunities to be involved in modern biological and medical research including genomics, immunology and neuroscience.
A varied and interesting field, you could start out as a lab technician and with further education and experience become involved in driving innovative research forward.
There are a wide variety of job opportunities in this field including:

Biotechnology and pharmaceutical companies
University and academia
Private research laboratories
Crown Research Institutes
Government agencies
Ministry of Primary Industries
Ministry of Business, Innovation and Employment
Analysts
Laboratory technicians
Scientific officers
Teachers
Researchers
The Bachelor of Science (Biomed) is an excellent step towards your Biomedical Sciences career. Biomedical Sciences is a major within the Bachelor of Science and is co-taught between the Faculty of Science and Faculty of Medical and Health Sciences.