AMRF Medical Sciences Learning Centre - Whakaaro Pai
The AMRF Medical Sciences Learning Centre is a facility for education in anatomy, medical imaging and pathology.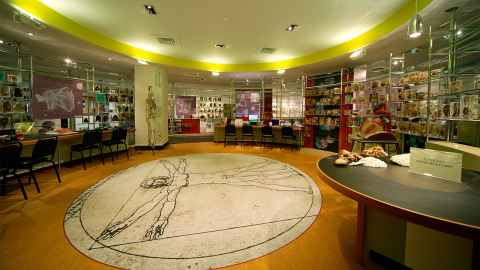 The Auckland Medical Research Foundation (AMRF) Medical Sciences Learning Centre - Whakaaro Pai combines the School of Medicine's anatomy and pathology museums and contains a wide range of anatomical models, over 1,100 pathology specimens, and an extensive online radiology and pathology image database.
History of the Centre
The Centre, designed by Auckland architect Rick Pearson, was opened by the Prime Minister, Rt Hon Helen Clark on 2 December 2005. It was a winner of the New Zealand Institute of Architects New Zealand Award 2006, New Zealand Institute of Architects Colour Award 2006, and a finalist in the NZIA Supreme Award 2006.
Construction of the Centre was made possible through a generous gift of $500,000 from the Auckland Medical Research Foundation to mark their 50th anniversary of funding medical research in the Auckland region.
Learning resources
Whakaaro Pai is located at the University of Auckland's Grafton campus, the Faculty of Medical and Health Sciences. The centre is a "hands-on" interactive resource, not just a passive museum.
It contains over 1100 pathological specimens and hundreds of anatomical
models.

The MSLC is primarily intended for FMHS students studying medicine, optometry, pharmacy, exercise science, speech/language therapy, nursing, medical imaging, biomedical science, and more. However, we have a vast array of external visitors and users, including medical graduates, other tertiary institutions (AUT, Unitec: midwifery, physiotherapy, podiatry, oral health), ADHB programmes, St John, Brain Bee and selected high school visits.
Any user or visitor to the Medical Sciences Learning Centre must prearrange their visit and have an in-person induction by the staff in charge: Dr Brittney Black, Anna Laurenson or the technical manager, Dr Deborah Prendergast. The centre is not open to the public.
In addition to the physical space, the MSLC Image Database is available to all teaching staff and students. This is a password-protected, searchable online database. It contains high-resolution
images of our pathology collection and radiographs alongside their clinical and pathological descriptions.
The process of accepting and managing bequests is governed by the Human Tissue Act (2008) under the formal authority and guidance of the Inspector of Anatomy from the New Zealand Police. 

Contact details