We support our MAPAS students through their cultural and educational journey within the Faculty and Medical and Health Sciences (FMHS) to help them successfully complete their studies and graduate.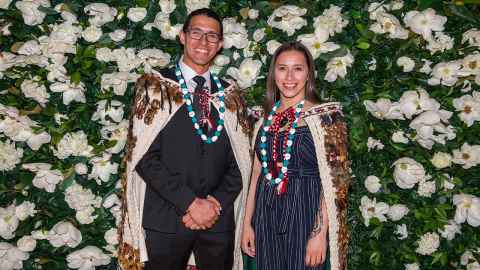 The Māori and Pacific Admission Scheme (MAPAS) is a vital part of the Vision 20:20 initiative which aims to increase the number of Māori and Pacific health professionals to 10% of the health workforce by the year 2020.
MAPAS is designed to help our students reach their goals so they can contribute and be a valuable part of increasing the number of Māori and Pacific health professionals needed in New Zealand.
The MAPAS Experience
MAPAS Interviews
Whānau role
Testimonial: A whānau journey into medicine
Eligibility
Must have verified indigenous New Zealand Māori or Pacific whakapapa/ancestry
Are a citizen or permanent resident of New Zealand, and
Have applied for entry into a FMHS programme
Applying for MAPAS
To become a MAPAS student you must:
Complete the online application for admission to your programme of choice by the closing date set by the programme
Submit a MH04 form by the due date outlined on the MH04 form
Attend a MAPAS General or Specialty Interview
Be offered (and accept) a place in a FMHS programme
Academic and pastoral support for MAPAS students
MAPAS Academic Support includes:
Tracking of academic progress.
MAPAS group tutorials for specific courses.
MAPAS study space and computers.
Study workshops and wānanga (in conjunction with Student Learning Services).
MAPAS Pastoral Support includes:
Access to a MAPAS Student Support Adviser for each programme, who is available to help students with pastoral issues such as accommodation, financial, personal, family or work.
Assistance to access key support services such as Student Health and Counselling, Student Learning Services, Spiritual and Religious Support, Tuākana Network, and Student Disability Services.
Cultural development and support through workshops and wānanga.
Peer support through regular cohort meetings.
View other Faculty of Medical and Health Sciences prospectuses and handbooks.