The Faculty of Medical and Health Sciences aims to be an inclusive and safe space for all members of our LGBTQITakatāpui+ community.
FMHS Rainbow Student Network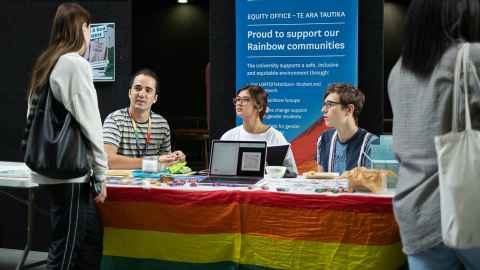 The FMHS Rainbow Student Network is a faculty-wide networking club run by FMHS students for LGBTQITakatāpui+ students and allies. We organise a range of activities from social events, educational seminars to volunteering opportunities. Our main goal is to create a safe space for the LGBTQITakatāpui+ students to exist and also to create an environment that allies would feel safe learning more about the community.
Additional support
For more support information or resources for staff and students, please contact:

Lucy Barnes (she/her/ia)
Student Support Adviser /Kaitohutohu Tautoko Tauira
Email: lucy.barnes@auckland.ac.nz

Daniel Heke (he/him/ia)
Student Support Adviser /Kaitohutohu Tautoko Tauira
Phone: +64 (0) 9 923 7071
Email: d.heke@auckland.ac.nz