Careers in Optometry and Vision Science
Can you see an optometry career in your future?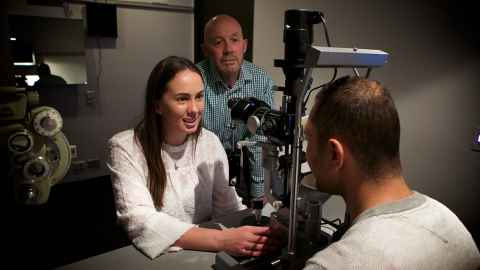 Optometrists play a valuable role in maintaining eye health. They examine eyes, prescribe glasses or contact lenses, diagnose vision problems and treat eye diseases such as red-eye.
The majority of optometrists enter private practice, which offers regular hours and the freedom to choose where to live and practise.
Optometrists can also work in hospitals, clinics and research. Some of our students take their knowledge and training overseas to help underdeveloped countries where people don't have easy access to optometry services.
With further postgraduate study, you could have the opportunity to take part in ground-breaking research and new practice initiatives. This can lead to more career opportunities in specialised research or practice.
Careers for students with qualifications in Optometry and Vision Science include:

Optometrist
Research scientist
Academic lecturer
Product manager for pharmaceuticals or contact lens manufacturing
Low vision rehabilitation trainer
Bioengineer in vision science
The level of education needed will vary according to each role.
The first step is to study a Bachelor of Optometry. The University of Auckland offers New Zealand's only BOptom degree, which qualifies you to register to work as an optometrist.
Towards the end of the first year of the Bachelor of Science in Biomedical Science, you can apply for the BOptom Part II.
Alternatively, you must have completed a relevant degree, such as Science, Health Sciences or Biomedical Science to apply for graduate entry to the BOptom.