University of Auckland selects its 2021 40 Under 40 group
Each year Alumni Relations and Development selects 40 alumni aged under 40. These are people who are changing the world through the paths they have taken and the choices they've made in six fields of endeavour.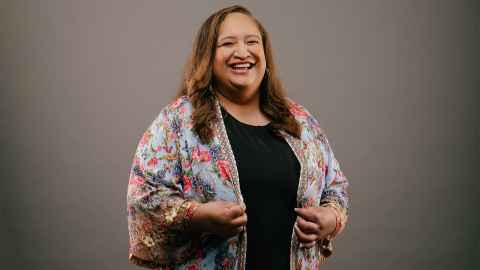 PERFORMERS
Marcia Hinemoa Hopa has a natural flair for performance, whether it's on the kapa haka stage, TV screen or the radio.

In 2021 she co-hosted Māori Television's bi-lingual family game show Lucky Dip and is also co-host of Ngāti Hine FM's E Ara E Mara morning show.

"I love entertainment and being in front of or behind the camera or on the airwaves," says Marcia, who is fluent in te reo Māori.

Marcia (of Ngāpuhi, Waikato and Ngāti Whātua descent) grew up in Whangārei. She is a founding member, senior tutor and kaitatāki wahine (female leader) of Hātea Kapa Haka, a whānau and marae-based kapa haka group established by her mother, Pauline Hopa, in 2000. Hātea is one of the top kapa haka groups in Northland and renowned for its unique sound. At the Te Matatini Māori performing arts competition in Wellington in 2019, they delivered a spine-tingling te reo Māori version of Queen's Bohemian Rhapsody that went viral after initially being approached by Universal Music to create the Māori version for a video to mark the launch of the Queen biopic.

Marcia and Hātea Kapa Haka also contributed to the 2019 te reo Māori album Waiata Anthems, popular songs from New Zealand artists, with a powerful mix of harmonies for Aotearoa God Defend New Zealand.

Back in 2013, Marcia graduated from the University with a Bachelor of Education and became a teacher in her home town.

"My degree set me up and allowed me to teach and mentor rangatahi for many years." Marcia also spent five years as a navigator for the I Have a Dream Charitable Trust, based in Tikipunga and Whangārei.

"That role saw me mentoring and supporting more than 100 students, from Year Three to Year Seven."

As well as her teaching, media and kapa haka skills, Marcia has a digital multi-media qualification and has left teaching to work full-time in Niwha Creative, a business she co-owns with friend Phoenix Ruka, following her mantra to "give things a go".

"Niwha is a design house of Māori creatives who are passionate about delivering professional graphic design, film and illustration to the world through our lens," she says. "We pride ourselves on being a Māori business able to understand and connect with clients from all walks of life."
Other 2021 40 Under 40s in the Performers category
Ryan Archibald, Business innovation manager, Auckland Unlimited
Claire Cowan, Composer, Self-employed
Shilo Kino, Freelance writer and journalist
Manase Tapuaki Mei Langi Latu, Opera singer, Lindemann Young Artist, Metropolitan Opera (when Covid-19 allows travel)
Angus Muir, Designer, Angus Muir Design
Carl Van Roon, Director, Van Roon Martial Arts Ltd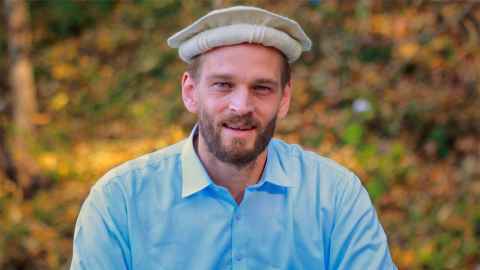 HUMANITARIANS
Karl Rock is frank.
"At school, I was a complete failure. But at university I focused on my passions – computers and film – and turned into a B+/A- student."

After graduating with a diploma in computer science and a BA majoring in Film, TV and Media Studies, Karl expected to get an IT job and settle down. When he was made redundant twice, he became disillusioned with working for other people, so decided to build something to become self-sufficient.

"I followed my passion for India and moved there. I bought a $400 GoPro camera and little did I know that the videos I was making in India for fun would go viral and I'd be able to make a career out of it."

Today, Karl is a YouTube influencer with 348 million views of his videos and 1.85 million subscribers. His top-ranked video, showcasing India to New Zealand, and New Zealand to India at street level, has had 15 million views.

Karl has also earned an international reputation for his scam-busting work, uncovering and fighting scams in India, and has become the go-to person in India for local research on scam call-centres operating internationally.

"Ever since scammers started calling my house, I took it personally and decided to raise awareness to get these shut down. Where I live is a hotbed for such scam call-centres. Luckily, in the past year, the police seem to have made it a priority to take them down – at least in my city."

Ask Karl what he has learnt during his career and he says: "I've learnt to say 'no.' You have to focus on your purpose in life and not be afraid to say no when an opportunity would be more of a distraction than helpful. And, as a YouTuber, you can't make everyone happy, so don't try.

"I also don't set goals. I focus on spending my time doing things that interest me. I'm content helping others through my videos."
Other 2021 40 Under 40s in the Humanitarian category 
Oshni Arachchi, Head of responsible investment, global head of sustainability data, screening and processes, Danske Bank Asset Management, Sweden
Morgan Edwards, Doctor, Waitematā DHB
Boopsie Maran, Founder and director of urban strategy, Places for Good
Karina McHardy, Independent consultant
Tāmati Rākena, CEO, My Taiao Clothing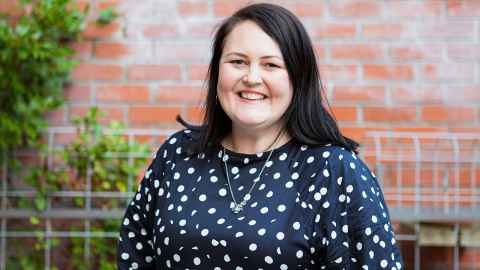 DISRUPTORS AND INNOVATORS
Michal Garvey is the founder of the award-winning Foodprint app, which redirects 'waste' from food outlets to customers.

"If the passion isn't there, you're not in the right place," she says of career choices.

Michal has a BA in Māori Studies and Political Science and says learning te ao Māori principles, such as kaitiakitanga, has helped shape her values and world view.

"My degree helped me find my place in the world and know the impact I wanted to have."

But it was after a "life-changing year" in Sweden in 2017, soaking up a country where sustainable living is part of the culture, that set Michal on a particular course. Within a year of returning to Aotearoa, she had set up Foodprint, first in Auckland then Wellington, with the support of the Creative HQ Climate Response Accelerator. Foodprint was one of eight successful teams to get into the programme from more than 70 applications.

The app (foodprint.app) won a Gold Pin and a silver accolade at the 2020 Designers Institute Best Design Awards, and was a finalist in the NZ Sustainable Business Awards.

Foodprint works by linking food outlets with thousands of customers who check the app to see which eateries have surplus food going for a discount, such as a bakery or supermarket near you. People purchase the food in the app and collect it using the app's map feature.

"Globally, one-third of all food produced for human consumption is wasted," says Michal. "Food that ends up in landfills decomposes and emits methane, contributing to the climate crisis.

"New Zealand cafés, restaurants and supermarkets produce 50,000 tonnes of food waste each year. More than 60 percent of this is completely avoidable."

Michal says Foodprint and the conversations it creates around food waste can play a role in Aotearoa New Zealand meeting the Sustainable Development Goals target to halve food waste by 2030.

"We're working with more than 400 eateries and have so far saved more than 50,000kg of carbon-dioxide emissions through food rescue," she says.

"I'm looking forward to the day when that's 50,000 tonnes of CO₂ emissions."
Other 2021 40 Under 40s in the Disruptors and Innovators category 

S. Adeel Ali, CEO and co-founder, APIMatic Limited
Imche Fourie, CEO, Outset Ventures
Rahul Suresh Gandhi, Resident physician, Capital and Coast DHB
Kate Meyer, Business director, sustainability, Beca
Lucy von Sturmer, Founder and CEO, The Humblebrag 
Daniel Xu, CEO, Spark 64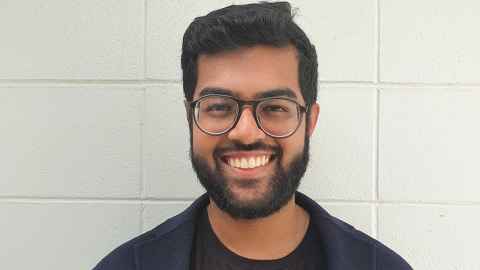 ENTREPRENEURS
When Nawaz Ahmed was a schoolboy, he had a successful "side hustle" selling chocolates to students and then hats to buyers around New Zealand. They were clues to the kind of career path he'd take, focused on innovation and start-ups.

Today, Nawaz works with international crypto-advisory firms such as Faculty Group and Genesis Block, building and advising on new blockchain and cryptocurrency projects. He invests in tech start-ups in New Zealand and, more recently, the US, and is a scout for local and offshore venture capital firms.

He also hosts a podcast called The Inquisitive VC, talking to venture capitalists and entrepreneurs around the world.

Nawaz enrolled in a Biomedical Science degree at the University in 2013. But when he discovered the Master of Bioscience Enterprise (MBioEnt), he changed tack.

"I thought it was a great opportunity to merge my science background with my business interests."

From there, he won an internship to join the technology development team at UniServices, – the University's commercialisation company – and was exposed to the world of start-ups and venture capital.

"The MBioEnt programme really gave me a fundamental understanding of key business and commercialisation aspects," says Nawaz.

"When I interned at UniServices, I got to see how tech companies start, what you need to look for when analysing early-stage tech ideas, and how early-stage companies pitch."

A defining moment for Nawaz was discovering cryptocurrency. He says he fell down the "crypto rabbit hole" and decided to focus on it. "I believe it is the future of the internet."

He has been working in crypto for about four years and has a professional goal.

"The idea is to become a full-time, early-stage technology venture capitalist, with a specific focus on crypto projects."

One of his challenges has been learning how to network.

"Initially, I didn't know how to network and was uncomfortable with the whole idea of it," he says.

"After putting myself in situations where I had to do it, I started to get the hang of it. I realised that being good at early-stage tech investing really relies on building authentic relationships and meeting great people doing great things."
Listen to his podcast at: linktr.ee/theinquisitivevc
Other 2021 40 Under 40s in the Entrepreneurs category
Mofei Bian, Investor, China
Matty Blomfield, CEO and co-founder, Hectre Group Ltd
Eleshea D'Souza, Founder and director, Art In Bloom Academy and LIC
Kate Riegle van West, Founder and CEO, SpinPoi
Chandni Sahrawat, Director/operations manager, Sidart, Cassia and Sid at The French Cafe
Shaun Tan, Head of technology, Lanaco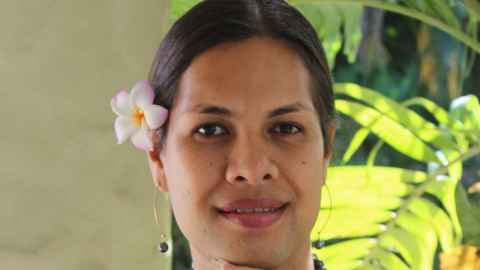 INFLUENCERS
Ask Valentino (Valery) Wichman what her greatest achievement is and she'll point to her work to advance LGBTQI+ rights in the Cook Islands.

"Yes, that's my most proud achievement … creating a change in perception and behaviour around the same-sex decriminalisation campaign in the Cook Islands and campaigning for equality."

In November 2019, the Cook Islands Parliament Select Committee reversed its decision to repeal the section of the Crimes Bill that made it illegal for same-sex acts. In response, Valery gathered supporters to boost the Te Tiare Association (the local LGBTQI+ association). She also helped establish the Pride Cook Islands Campaign.
"There is still much to do, but seeing our tamariki inspired and driven to be their authentic selves is priceless," Valery says.

Valery grew up in Rarotonga. In 2007, she enrolled in a conjoint BA/LLB at the University of Auckland and became a Tuākana Arts mentor. In 2009, she worked for the University's Equity Office as a mentor to Pacific Island students from selected high schools.

"The University provided me with an enabling environment to develop my passion for helping people," she says.

Since she graduated, most of Valery's professional career has been in the Cook Islands working for the government in a variety of roles, most recently as Director of Central Policy and Planning. That includes work on the Cook Islands National Population Policy and its 2020+ National Sustainable Development Agenda.

"I never really had concrete plans after leaving university – but my various roles have definitely helped me evolve in a positive way."

In 2016, the year Valery was admitted as a barrister and solicitor to the High Court in New Zealand, she also won a Queen's Young Leaders Award for championing LGBTQI+ rights in her home country.

Valery says her family have stood by her "through thick and thin" as her main support.

"What I've learned is how important it is to listen before responding … to understand the full context of a situation.

"So, patience would be the key word for me."
Other 2021 40 Under 40s in the Influencers category
Edward Ashby, Board member, Te Kawerau Iwi Tiaki Trust
Emma Blomkamp, Researcher and facilitator, Independent / University of Melbourne / Charles Sturt University, Australia
Lanu Faletau, Solicitor, Auckland Council
Cat Ruka, Executive director, Basement Theatre
Nina Tonga, Curator contemporary art, Museum of New Zealand Te Papa Tongarewa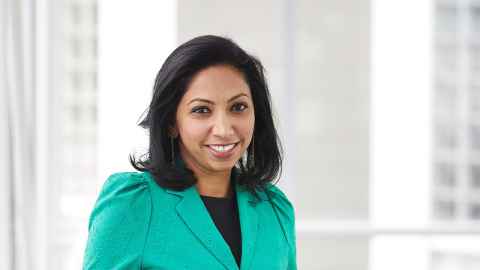 BUSINESS LEADERS 
While Ziena Jalil was growing up in Fiji, she had strong female role models.
"That included my mother and grandmother, and other female leaders who weren't just advancing their own careers, but improving outcomes for marginalised communities."
It is something she has never forgotten. Head girl and dux at Fiji's Natabua High School, Ziena became a trainer in drug and substance-abuse prevention at 16 and represented South Pacific youth at a UN forum at The Hague in 1999. 
She continued her education in New Zealand, graduating as the top student in her Bachelor of Communication Studies at AUT, and then moved to Asia, where she was based for ten years in the roles of regional director (South and South East Asia) for Education New Zealand, New Zealand Trade Commissioner to Singapore (the youngest commissioner ever appointed), and Head of North Asia Marketing and Communications for New Zealand Trade and Enterprise.
Her work leveraging the historic NZ-China Free Trade Agreement led to her being recognised as the Public Relations Institute of New Zealand Young Practitioner of the Year. 
Returning to Auckland with two young children just over five years ago, Ziena enrolled in a Master of Arts at the University of Auckland, graduating with first class honours in political studies and international relations. 
"I came to the University later in life, so it wasn't so much a foundation for success as a springboard to new directions."
Today, she has her own consulting practice in strategy and stakeholder engagement and serves on numerous boards. She also advises, speaks and writes about diversity, equity and inclusion. Back at that UN Forum in The Hague more than two decades ago, Ziena was asked by a journalist what her goal in life was. 
"I said I wanted to leave the world a little bit better than what I found it. I don't think 16-year-old me understood the magnitude of what I said.
"Fast-forward 20 plus years and for me leaving the world a bit better is about bringing equity and opportunity to those with diverse cultures, abilities and experiences. I focus on education and economic development, on New Zealand's relationship with Asia and the Pacific, and applying a diversity, equity and inclusion lens to everything that I do."
Other 2021 40 Under 40s in the Business Leaders category
Joshua Buckley, Executive, Control Air  Enterprises, US
Te Aopare Dewes, Hoa rangapū (partner), Chapman Tripp
Richard Hobbs, General manager, strategy and customer, Transpower
Sarah Liu, Founder andmanaging director, The Dream Collective, Australia
Lloyd McCann, CEO, Mercy Radiology and Healthcare Holdings Ltd
Nuwanthie Samarakone, Founder and director, ICE Professionals
This story first appeared in the Spring 2021 edition of Ingenio magazine.