Undergraduate Clinical Research Internships
Interested in clinical research? Want to work with internationally renowned researchers?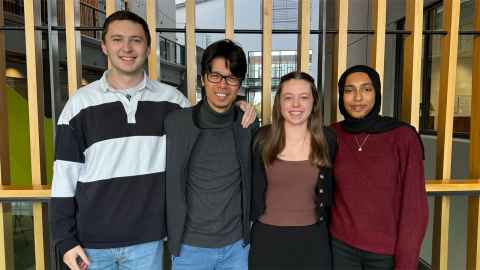 The Liggins Institute has established an undergraduate Clinical Research Internship programme for second year medical students interested in exploring research as part of their future clinical career.
Watch the seminar above to find out more about the Liggins intern programme from Professor Jane Harding and five of last year's interns.
What does an internship involve?
Interns undertake a two-year programme working within one or more clinical research projects at the Liggins Institute. Successful applicants are assigned supervisors and mentors and also work alongside graduate students at the Liggins Institute. Interns are paid for casual work during the semester and full-time work during the summer breaks.
Interns are involved in completing, presenting and publishing a research project and gain invaluable research skills and experience. There is potential to undertake further formal research training (usually a PhD) at an appropriate stage in their future career, and remain involved in future Liggins research. This unique opportunity is made possible by a philanthropic gift from the Aotearoa Foundation.
This year's interns are giving a presentation on their projects on July 20 at midday at the Grafton Campus. Click the button below to find out more and to register.
This internship has shown me so many pathways within research that I didn't know existed. Anyone even slightly intrigued by a career in research should give it a go, it really is an amazing opportunity.

Examples of projects available include:
Diagnosis and treatment of diabetes in pregnancy, and effects on short- and long-term health of mothers and babies
Optimal nutrition of preterm babies, and whether nutrition should be different for girls and boys
Treatment and prevention of low blood glucose levels in newborns, and how low glucose levels affect brain development
Outcomes in adults who were exposed to corticosteroids before birth
MRI for early detection of developmental problems in moderate-late preterm babies
Role of regulatory T cells in immune development of newborn babies
Application process
Applications are invited from students in the second year of the Auckland medical programme.

Applications should include a CV, including details of previous academic record before medical school if relevant, and a brief (<500 words) expression of interest. This should describe why the applicant is interested in this opportunity and how it might fit into their future plans. Medical school academic records will be made available directly to the selection panel.
Applications close on Wednesday 2 August 2023 and should be emailed to Shekinah Thorstensen: shekinah.thorstensen@auckland.ac.nz
Shortlisted applicants will be invited to an interview in mid-August.
Four interns will be selected, based on academic record, commitment and potential for a future research career.
 Priority will be given to applicants who do not have previous health or biomedical research experience.
About the Liggins Institute
The Liggins Institute was the University of Auckland's first large scale research institute and is a world leader in perinatal medicine. The Institute is named after one of New Zealand's most eminent medical scientists, Sir Graham 'Mont' Liggins, who discovered in the late 1960s that steroid treatment of mothers in premature labour would mature babies' lungs sufficiently for them to survive after birth. This seminal discovery has become standard practice for premature delivery world-wide and has saved millions of babies.
Research at the Liggins Institute is built on this cornerstone discovery and Liggins researchers have demonstrated that events that occur before and during pregnancy can increase the risk of high blood pressure, obesity and type 2 diabetes in later life. Current studies within the perinatal research team involve clinical trials with mothers and babies and assessing both short- and long-term outcomes.

Questions?
Contact Professor Jane Harding: j.harding@auckland.ac.nz
2022 interns seminar