What's it like to do a research internship?
Two medical students explain how a research internship at the Liggins Institute has transformed their understanding of the role of research in medicine, and taught them skills they'll use throughout their studies and career.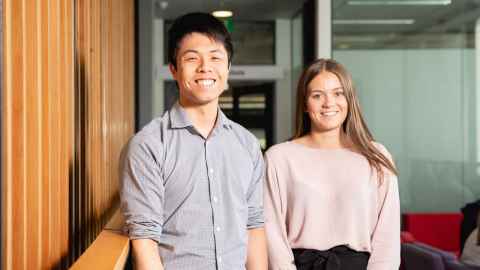 The Liggins Institute's Undergraduate Clinical Research Internship programme is designed for second year medical students at the University of Auckland who are interested in exploring research as a possible career. With paid casual work during the semester and summer breaks, and the opportunity to work alongside world-renowned researchers, it's a chance to gain invaluable research skills and experience. Our first interns, medical students Olivia Hofer and Gordon Liu, are coming towards the end of the programme. Here's what they experienced.
Why did you apply for the internship?
Olivia:
"I was only 18 months out of school with a very small insight into the realities of research and the importance of it. I believed this opportunity would help build my baseline research experience and technical skills, as well as improving my academic writing to communicate my findings. I knew that research was an essential component to medicine and didn't want to progress through my career without some experience."
Gordon:
"I've always been really interested in the role that research plays in medicine and how complementary the two are, especially in paediatric work, where even small changes in the care provided can have lifelong impacts on the patient. This internship seemed like a really good way to get more insight into clinical research, and develop some skills and experience that I can apply to the work I do in the future."
Tell us about the project you've been working on
Olivia:
"I have been working on a secondary analysis of the A*STEROID trial to determine if there are any differences in infant health outcomes after exposure to antenatal corticosteroids when comparing infants of normal weight mothers to infants of mothers who are overweight or obese. This involved me working alongside my supervisors to develop the study protocol, run the analyses and then collate the results to produce a paper."
Gordon:
"I've been involved in analysing the data and preparing the manuscript for a survey sent out to practitioners asking them about neonatal hypoglycaemia and its management in New Zealand. I've been working closely with Professor Jane Harding, who's been an incredible mentor to me."
What aspect of the research have you found most enjoyable? What's been challenging?
Olivia:
"Considering my research in the wider context of the situation and then determining what the implications of my results may be. I would usually find the process of reading and presenting the findings tedious but having my own results gave it far more meaning. I have also really enjoyed the personalised teaching through the interactions with my supervisors.
The most challenging aspect has been sharing my work with others (mainly my supervisors) far before I believe it is ready! I now understand the importance of collaborating throughout the research process to gain different perspectives and ideas, but it has been daunting sharing my ideas so early in the process."
Gordon:
"Getting to meet and learn from so many people has probably been the most enjoyable aspect. Hypoglycaemia is a really fascinating topic for me, but there is still a lot of controversy in both the research and clinical settings about how it should be managed. Being able to talk to people from different professional backgrounds and hear their different viewpoints has been a really enriching experience.
Research-based skills aren't something we focus on a lot in our medical programme, so I went into this internship with very limited experience. Getting to grips with how research works and developing my research skills was probably the most challenging aspect, but I was really well supported by the Liggins team (and especially my supervisors), who were always willing to answer questions and provide guidance when I needed it."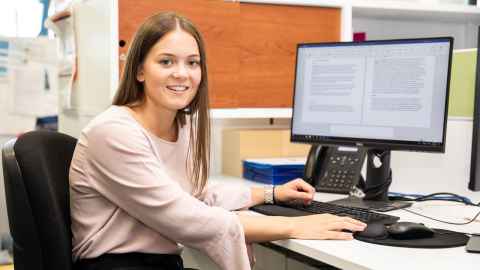 What new skills have you learnt?
Olivia:
"I am now far more effective and efficient at performing a literature search, have a better understanding of basic statistics, my academic writing skills have improved, and I can appraise and grade different kinds of evidence. In addition to this I have learnt the fundamental skills essential to all clinical trials such as data collection and entry, as without these trials could not happen."
Gordon:
"The internship has transformed the way I engage with scientific work. Every aspect of it, from reading journal papers, to thinking about how we approach data, to writing in an academic style, has really been refined and enhanced by this experience. I've still got a lot to learn, but I can look back on myself from last year and already start to see some major improvements."
Has anything about the research process been a surprise to you?
Olivia:
"I have been surprised at how 'messy' research can be. Before starting my internship I thought most trials had a plan, the development of it was obvious, and collecting the data was relatively straightforward. I now understand that there are several other factors involved in even designing a trial let alone trying to recruit all the participants and then collect their data."
Gordon:
"I hadn't realised how complex the process of designing a clinical trial is, and how challenging it can sometimes be to construct a trial that's going to appeal to all the relevant stakeholder groups."
How would you describe the relationship with your supervisors and the research team?
Olivia:
"Every meeting I have with my supervisors I feel as though I learn something new, whether it is directly related to my internship or something relevant to my studies. My supervisors are very intent on making sure I get to experience the areas of research I want to and have been very supportive of any ideas I have. Being able to meet weekly and being able to contact my supervisors via email throughout the week has enabled my learning to be a continuous process."
Gordon:
"My supervisors have been great mentors to me and there are still meetings I have with them where I'm blown away by the depth of their clinical and research knowledge. But at the same time, there's also a collaborative quality to our relationship. Instead of just telling me what to do, they've also let me make and justify my own decisions and given me a more active role than what I think a student learning from a teacher might have. In some aspects, I've found that to be a more valuable learning experience: I've had to come up with a clear rationale for my actions and make and learn from my own mistakes."
What's your proudest achievement from the summer project?
Olivia:
"Getting my paper to the point of (nearly!) being ready to submit to a journal. I did not expect to have nearly completed a whole paper in the first summer and I am proud of the extent I have been able to re-work, edit, adapt and develop this piece of work. We rarely get the opportunity to spend such time on a project at university so it has been exciting to finally do so."
Gordon:
"The manuscript I've been working on (especially once it's published!). It'll be the first paper I've ever co-authored, so that'll be a big achievement for me.
Has the internship changed your expectations or understanding of research?
Olivia:
"This internship has definitely opened my eyes to where research sits within medicine and how I could be involved in the future. I now see research is a very important part of the development clinical practice, and I understand that a lot of our clinical practice is not supported by robust clinical trials. There is so much more that can be researched and tested."
Gordon:
"More than anything, this internship has highlighted to me the importance of research in informing clinical practice. The human body and its relationship to disease is incredibly complex, and research is needed to better understand and manage that relationship. It's also emphasised to me that like with anything, research is something which needs to be constantly critiqued and refined."
What would you say to other students considering applying for the internship programme?
Olivia:
"Don't miss out! The programme is designed for medical students and is incredibly understanding of our commitments to our study. You will develop research skills that are applicable to your studies, but you also are exposed to several clinical learning opportunities that you wouldn't experience in your pre-clinical years, let alone while on placement in your fourth - sixth years. And if you want to remain involved research, the internship allows you to qualify for a PhD further down the track."
Gordon:
"This internship is a really great experience - you get to meet an incredible bunch of people who are really supportive, and learn and experience so many new things about research and clinical work. The work is really engaging and fun, and the internship also provides opportunities outside of purely doing research (e.g. participating in workshops, attending public lectures and grand rounds). They're also really understanding of how hectic student schedules can get, and are willing to be flexible and work around it, so you can still focus on your studies/have a break when you need to."