Clinical exercise physiologist
Clinical exercise physiology is a recognised allied health profession.
A career in Clinical Exercise Physiology
A clinical exercise physiologist is an individual who specialises in the delivery of exercise, lifestyle and behavioural modification programmes for the prevention, management and rehabilitation of chronic conditions and diseases, and injuries.
A clinical exercise physiologist provides individualised and specialised exercise and lifestyle education for clients across a wide spectrum of health, from the apparently healthy to those with diagnosed conditions such as cardiovascular disease, diabetes, respiratory disease, or chronic pain or injury.
The clinical exercise physiologist plays an important role in a multidisciplinary team by providing specialised exercise testing, exercise programming and client education (within their professional scope of practice) in conjunction with other medical and allied health professionals.
In the New Zealand context there is, under the Treaty of Waitangi, a commitment to Māori Health, and Pacific Health and the multicultural New Zealand population.
Sector outlook
Clinical exercise physiology in New Zealand is a recognised allied health profession.
Physiologists are registered with Clinical Exercise Physiology NZ, and with the NZ Clinical Physiologists Registration Board who issues annual practicing certificates to hospital-based and community-based respiratory, cardiac, sleep, and renal dialysis physiologists.
New Zealand has joined countries such as Australia, the United States, United Kingdom, and Canada in recognising the value that clinical exercise physiologists add to the wellbeing of those living with chronic disease.
Becoming a registered clinical exercise physiologist
The Clinical Exercise Physiology Programme is comprised of a Postgraduate Diploma in Science followed by a taught Master of Science in Clinical Exercise Physiology and is the first programme of its kind in New Zealand.
The two-year postgraduate programme ensures our graduates are able to safely assess cardiorespiratory fitness and prescribe safe and effective exercise for people of all ages representing a wide range of medical conditions.
A growing body of science strongly supports the valuable role of the clinical exercise physiologist in helping to treat people following colorectal and breast cancer therapy, people with type 2 diabetes, cardiac, respiratory, and kidney disease, arthritis, stroke and clinical depression.
Josh's story
Clinical Exercise Physiologist - Josh Foreman
Josh completed a Master of Science specialising in Clinical Exercise Physiology in 2016. He's currently working at the Auckland District Health Board as a respiratory physiologist.
His role includes a variety of pulmonary function testing, as well as conducting cardiopulmonary exercise tests on high risk patients with a variety of diseases.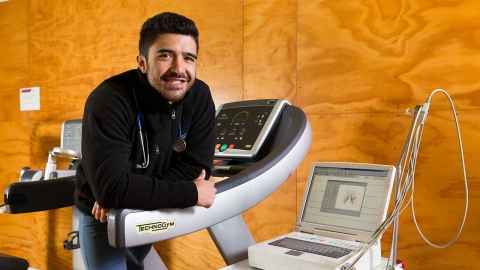 "I have always been passionate about health and fitness and strived to help those wanting to achieve their fitness goals.
"After completing my undergraduate studies I decided I wanted to gain more knowledge in the field of exercise science.
"I had a keen interest in exercise physiology, from high performance athletes to clinical patients with chronic diseases, and I wanted to develop the skills to rehabilitate those with chronic diseases.
"After having completed my Postgraduate Diploma in Science at the University of Auckland it made sense to stay on and complete my masters here. My MSc dissertation topic was 'Detecting occult airflow-limitations in phase two cardiac rehabilitation clients'.
"I have great respect for the University lecturers as they're always approachable and happy to answer my questions. I think we are lucky to have a fantastic, all-round university providing a quality education to people from all over New Zealand and internationally.
"One part of the programme I enjoyed the most was the opportunity to work in the Cardiac Rehabilitation clinic. It was such a bonus experiencing what it is like to be a Clinical Exercise Physiologist in a real setting, with real people who have real diseases. All the theory that we learn is put into practice.
"I'd like to open my own clinic one day, a space that will not only rehabilitate people with chronic diseases, but also people that have undergone an operation and need assistance to get back to pre-operative condition.
"My masters degree enabled me to enter this field well prepared with the necessary theoretical knowledge and clinical experience."
The Postgraduate Diploma in Science (PGDipSci) is an opportunity for Bachelor of Science graduates to advance their qualifications.
Job options
Clinical exercise physiologist and health and wellness careers with District Health Boards, hospitals, clinics, gyms and fitness centres, and sporting bodies.
Private practice clinical exercise physiologist
Exercise rehabilitation adviser
Injury prevention consultant
Occupational health and safety consultant