Clinical psychology is one of the largest specialty areas within psychology.
A career in clinical psychology
Clinical psychology is a broad field of clinical practice and research within the discipline of psychology.
Clinical psychologists are involved in professional practice, research, teaching and supervision, programme development and evaluation, consultation, public policy and other activities that promote psychological health in individuals, families, groups, organisations and communities.
The application of clinical psychology is aimed at preventing, treating and reducing emotional and psychological problems, personality issues, psychopathology and skill deficits underlying distress or psychological problems.
A career in clinical psychology allows one to work in human service fields, including the District Health Boards, the Department of Correction Psychological Services, private practice and other social welfare and counselling agencies.
Registering as an intern clinical psychologist
Students completing an internship are required to register with the New Zealand Psychologists Board. Clients cannot be seen and internship hours cannot be counted until registration has been approved.
Instructions for how to register are available on the Psychologists Board site.
An essential part of the registration process is the completion of a police vetting process in order to comply with the requirements of the Health Practitioners Competence Assurance Act 2003 and the Vulnerable Children Act 2015.
You are required to provide the board with information and authority for them to apply to the Police for disclosure of your records.
Please make sure that you start this registration process at the time of acceptance in the third year of our programme (internship). The police vetting process may take several weeks to complete so late applications for registration with the Board could result in delays to starting your internship.
The application documents are indicated below. All documents should be sent to the New Zealand Psychologists Board. If you have questions, contact us directly or the NZPB.
Applicants must provide a copy of:
1)  Fully completed and witnessed three-page application form and certified colour passport-sized photo.
2)  The police vetting forms – do not complete page 2
3)  A photocopy of your driver's licence
4)  Your official university transcript
5)  Your CV
6)  References – must be originals
You need not pay the application fee until you commence your internship.Upon request we can provide a reference letter.
Once you have secured your internship placements, provide the NZPB with a work address and email.
Becoming a registered clinical psychologist
To become a psychologist you need:
A masters or higher degree in psychology
1,500 hours of closely supervised practice, approved and evaluated by the New Zealand Psychologists Board 
To be registered with the New Zealand Psychologists Board.
More information on accredited courses in psychology.
The Children's Act 2014 means that if you have certain serious convictions, you can't be employed in a role where you are responsible for, or work alone with, children.
Danielle's story
Danielle Hay, Ngati Maniapoto, is studying for a Doctorate of Clinical Psychology. Her doctoral research is focused on an investigation of trainee therapists' experience of imagery in therapy.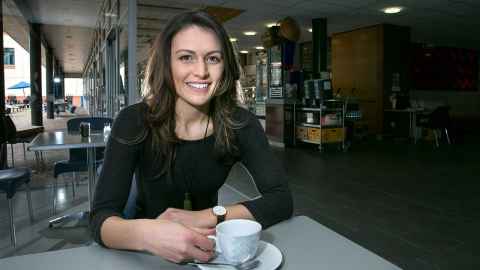 "I've always had a desire to understand what helps people to flourish.
"After travelling and working, I realised I wanted to contribute to health and wellbeing in Aotearoa.
"Clinical Psychology integrates theory, science and clinical knowledge for the purpose of understanding, preventing and relieving distress and dysfunction, and to promote wellbeing and personal development.
"The Clinical Psychology doctoral programme offers a pathway to become a registered clinical psychologist and has a strong reputation in the community.
"The programme has a good balance of academic, clinical and research components – I've just finished my first practicum placement, which i really enjoyed.
"My classmates are really supportive and the programme has also enabled me to connect with the Maori clinical psychology community.
"I've been lucky to receive the University of Auckland Doctoral Scholarship, which covers all my tuition fees and living costs. It's allowed me to focus on my studies and when I finish I'm hoping to work as a clinical psychologist."
The Doctorate in Clinical Psychology is a specialised programme on offer to postgraduate students. This programme is restricted to New Zealand and Australian citizens/residents.
Job options
A career in Clinical Psychology allows you to work in human service fields, including the District Health Boards, the Department of Correction Psychological Services, private practice and other social welfare and counselling agencies.
Neuropsychologist
Mental health social worker
Substance abuse counsellor
Child psychologist
Special Education teacher